Bilingual online concordancer tool
TransSearch is a bilingual online concordancer that lets you quickly search for commonly used equivalents of terms and phrases in the text of Canadian House of Commons and Senate debates (Hansard corpus), as well as the text of rulings from Canadian courts and the International Labour Organization. Its databases contain over 500 million words in total.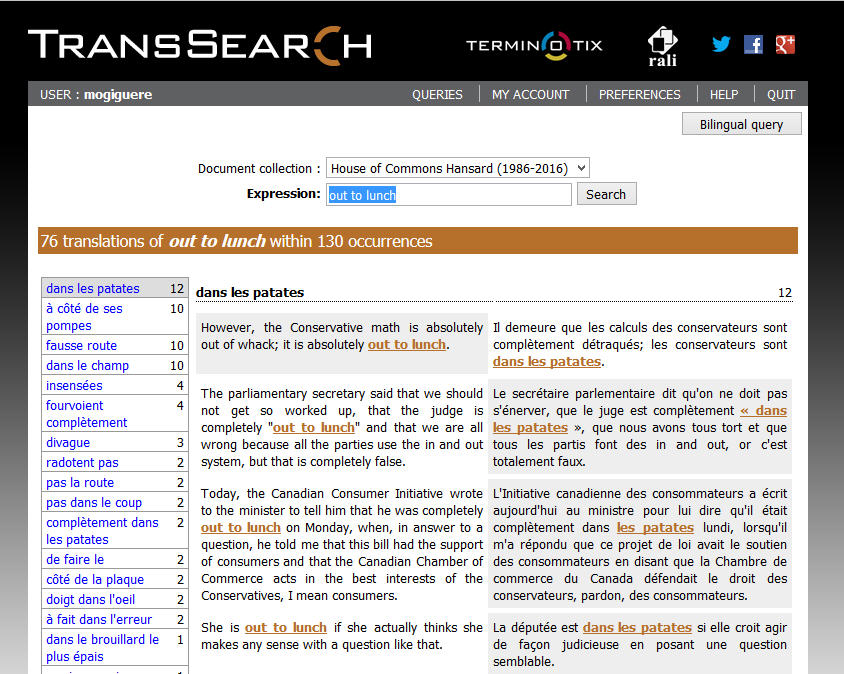 When you enter a term in TransSearch, the application displays all instances of the word or expression in context, indicating translated text in white and original text in grey. It also prepares a list of equivalent terms, sorted by number of hits. TransSearch uses statistical algorithms to automatically locate terms in the target language.
Designed for translators, TransSearch can also be used as a writing tool. It contains a wealth of knowledge for anyone who regularly writes in French and English—especially when either of these languages is not one's mother tongue.
TransSearch is offered as a monthly subscription at the cost of CAN$129.95 per year for a single user. The price is discounted based on the number of users.
To know more about TransSearch, please visit tsrali.com and subscribe for a 5-day trial period.
External Link icon from Icons8