A shared interface for searching your terminology and multilingual archives

The Web Extension Module can be added to LogiTerm Web to help you increase standardization across your organization's documents and enhance the quality of your internal communications. It does so by letting an unlimited number of users (internal and remote) search your terminology records, past translations and unilingual archives.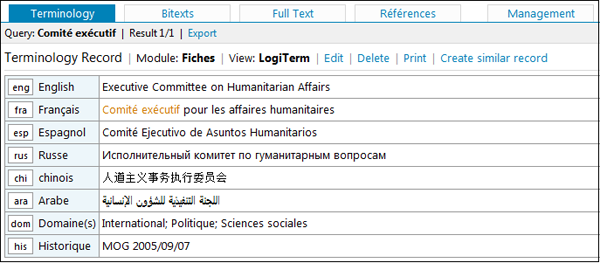 With no software to install on individual computers, users can independently search for terminology within all your organization's documents, right from their Internet browsers. The Web Extension Module is sold at a set price, regardless of how many licenses you need. For example, if you want to give your organization's 2,000 employees password-free access to the Web Extension Module, simply activate a public access account. This account type will save you from having to create 2,000 user accounts and passwords manually.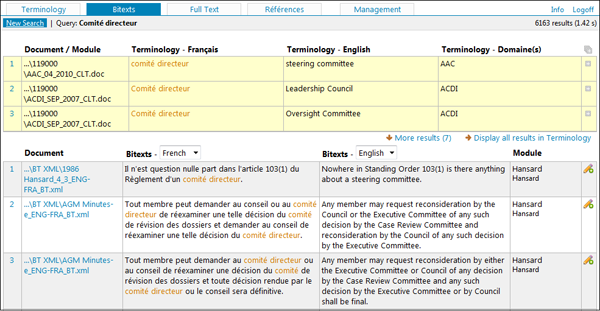 You can also give remote collaborators the ability to create and/or modify the Terminology database, allowing them to take part in the collaborative process of creating term records. When you purchase the Web Extension Module, you'll also receive an unlimited number of LogiTerm toolbars for your external collaborators, allowing them to refer to your archives when translating documents that have been pretranslated with LogiTerm.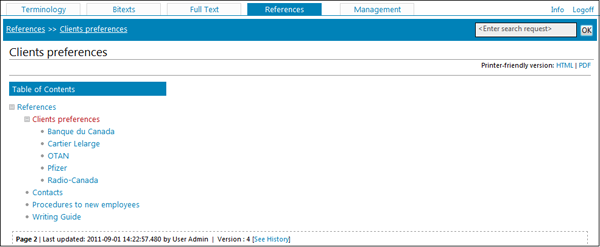 Terminology Sharing Module This module, which Terminotix can customize according to your needs, comprises an interface for searching your Terminology database. The Terminology Sharing Module can be used internally or remotely, with different displays according to the user group in question.
A few examples:
External Link icon from Icons8